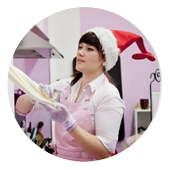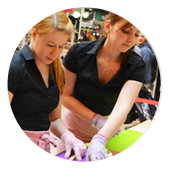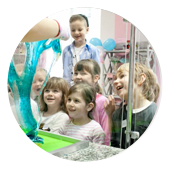 On account of numerous birthday reservations for weekends, please confirm
any booked hours of our shows in advance.
Our very workshop is the littlest manufacture of candies in the world!
We make sweets, bonbons, and lollipops manually in over 50 flavors using natural dyes.
We add natural fruit aromas and oils to our confection.


See with your own eyes how candies and lollipops are made!
Shows start at fixed hours and last about 30-45min. We cook caramel
at Cukier Lukier workshop, pour it on a stone countertop and then…
- you must see it yourself! Be welcome! At each and every show children
(as well as adults :)) can make their own lollipops!
We always treat to candies from our Workshop.



Confectionary courses last an hour – we welcome up to 5 people at once,
40-50zł per participant. Everyone takes about 500g of sweets home.
Hen party begins sweet once you and the rest of the girls prepare your very
own lollipops in any shape you want and start off to hit the city!
Sweet shows
Fun
for the adults